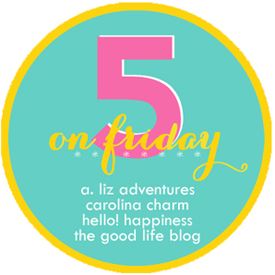 One:
Everything Pumpkin....I have been obsessed lately. My latest pumpkin purchase was spice cake mix and pure pumpkin after seeing a thousand people post about these two ingredient pumpkin spice muffins. I can't wait to try them this weekend!! I bought pumpkin spice creamer this week for home and then realized they had it as well in the non-refrigerated stuff too, so had to get that as well. I have also found a love for PSL's from Starbucks. I have been a Salted Caramel Mocha fan the last couple of years after trying the PSL and not liking it. Apparently my tastebuds have changed because this year I can't get enough!!I found this article about the
PSL
and I thought it was quite hilarious.
Two:
The Weekend:
Pretty sure this could be on the list every week, but my parents are coming into town today and we are so excited to spend the weekend with them. We are going to get Audrey's Fall pictures taken in the morning and then I am sure the girls will find some sort of shopping to get into!!
Three:
This week I cooked a total of once, which if I am honest that is not that unusual. I did however try a new Beef Stroganoff Crock pot recipe on Monday night and it was pretty yummy. I just used the McCormick packet and added what it said to add. Does that even count for cooking, not sure. Other than Tuesday night when we went to Papa's and Beer and Audrey had her first public melt down because she didn't want to be done with her beans, cheese, and rice when it was time to leave (I told this to my sister and she said who could blame her, I feel the same way sometimes when a meal is over), she has been eating the same thing all week which has consisted of the pasta from Monday night, sprinkled with carrots, broccoli, and cheese, and a banana.
It was definitely better than it looked....
Four: We had two great mail days this week. It made it even better than one of them was for me for once. :)
Audrey got a new jacket!!
.....and I got new shoes!!!
Five:
I searched on Pinterest last night for ideas for Halloween gifts for Audrey's teachers. I think I have decided to do these:
....and make these cute bags for them to go in....